WINYA has a new and very unique business model, designed to assist Government, large Corporates and Builders in meeting their Indigenous Opportunity Policy and procurement commitments. Buying from WINYA assists our Indigenous employment and training goals. WINYA places and then financially supports the employment and training of Indigenous trainees and staff within high quality furniture manufacturers across Australia. These suppliers make product to WINYA specification and designs. Buying your workstations or art from WINYA also assists us with the development of our Prisons training programs.Being able to buy from a Supply Nation Certified, majority Indigenous owned business, with total Risk Management, through our supply model which is backed by some of Australia's largest and longest established commercial furniture suppliers, Government now has the ability to use Exemption 17 of Commonwealth Procurement Regulations with absolute confidence.
WINYA can supply both premium, craftsman-made furniture pieces and also the highest quality workstations, sit stand desking and commercial furniture, and seating manufactured in each State. Full installation and fit-out are provided through our Partnering with Supply Nation members and Indigenous owned fit-out companies.Total Risk Management is guaranteed for large projects through the fully committed major suppliers behind the WINYA supply program, giving an unmatched supply capacity and without any of the risk of dealing with a small business. WINYA is ISO9001 Certified and has an ISO14001 Environmental Management system. WINYA has been purposely set up as a sophisticated, well organised business model to supply large clients and to manage the workflows and communications needed on large projects.WINYA is backed by many of the largest and most respected furniture suppliers in Australia. Each of them has committed to our Indigenous employment goals, and committed to take on Indigenous employees as part of their supply agreements with WINYA.Winya has installation teams in each Capital city and National capability including Indigenous businesses in regional locations.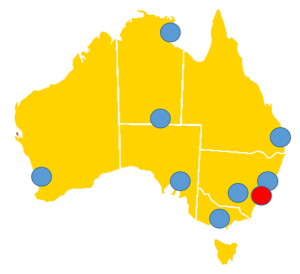 These are the fantastic suppliers, who passionately stand behind WINYA, who help fund us, who employ our trainees who build our designs and products and then back our warranty for 10 years:
Task, Executive & Visitor Seating
Our total capacity>3000 chairs per day with AFRDI 6 or greater rating:
Chair Solutions, Australia's largest office seating manufacturer, manufactures for us in Perth, Melbourne, Sydney, Brisbane and Darwin.
Sturdy Framac, one of the longest established seating manufacturers who make our products in Sydney and Brisbane
Fineseat, manufacturing in Sydney
Diami, a key NSW Government supplier
Gregory Chairs
Therapod specialist seating
Eccosit, Australia's largest seating components supplier
Workstations, Cabinetry & Storage
Total capacity > 150 sit-stand electric desk positions or >300 Workstations per day.
AMS custom workstation manufacturing. AMS also make product for Schiavello, Haworth and Workstations Pty Ltd and full custom installations NSW and Qld
OLG workstation (national supply and Installation)
HOW Group workstation manufacturing (Melbourne)
Diami (NSW)
Metalwork Australia storage
Melbourne Desk hand finished solid timber and veneer tables and receptions
Rosebery Furniture veneer tables cabinetry and receptions
Soft Seating
Sturdy Framac (Brisbane and Sydney)
Chair Solutions (Perth, Melbourne, Sydney, Brisbane and Darwin)
Diami (NSW)
HOW Group (Melbourne)